Wood Pellet Machine
Wood Pellet Machine for Sale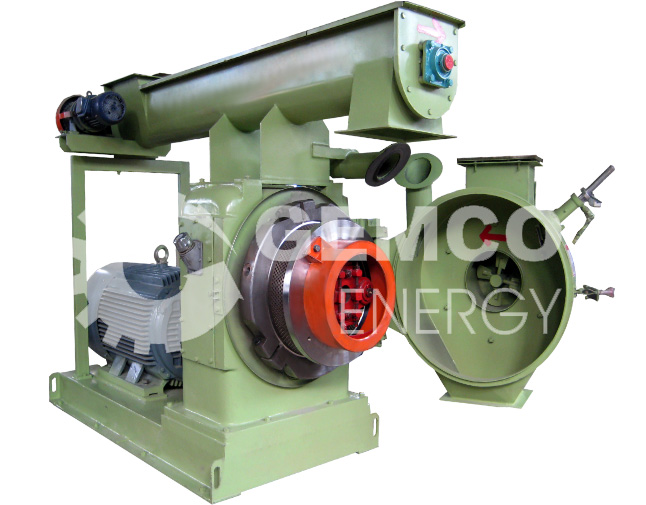 Learn to Build A Complete Pellet Plant
Technical Parameters of GEMCO Ring Die Wood Pellet Machine
Type
Capacity ( t/h )
Power (kw)
Ring Die Capacity (t)
Pellet Specifications (mm)
BPM420
1-1.5
95kw
800-1000
6 / 8 / 10 / 12 / 14
BPM508
1.5-2
115kw
1000-1200
6 / 8 / 10 / 12 / 14
Type
Forming rate
Ability to operate (h)
Noise
Dimensions (mm)
BPM420
>95%
>20h
≦88dB[A]
3300*1200*3943
BPM508
>95%
>20h
≦90dB[A]
3450*1470*4445
Type
Weight
Pellet energy consumption
Main motor speed (r/min)
BPM420
≈3t
≈85°
1000
BPM508
≈4.5t
≈80°
1000
Anti-cracking Technology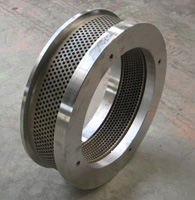 With years of practical experience, we have developed ring die anti-cracking technology. And the ring die of our pellet machine adopts high-Cr alloy and aperture processing own national patent.
Anti-cracking technology protects the ring die from cracking during heat treatment and help improving the capacity of wood pellet machine largely. That is why the capacity of our BPM 420 pellet machine can reach 800-1000t/h and our BPM 508 pellet machine can reach 1000-1200t/h.

Ring die is the key parts of large wood pellet machine. The main parameter of ring die is hole distribution and compression ratio. Making wood pellets requires very high pressure. For pellet machines with poor quality, the ring die often cracks. If the holes and main motor speed configuration is designed unreasonable, it may lead to ring die cracking or even self-ignite during the process of pelletizing.

Structural Improvements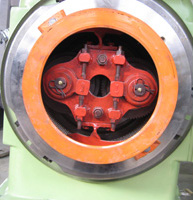 Making wood fuel pellets requires high temperature, high pressure and high wear resistance. To supply pellet machine with higher quality to all customers, we have found a way to improve its structural and strengthen the whole performance. Besides, the air shaft, big gears and other transmission parts of our machine are all with high hardness and forge processing. This will increase 2-3 times resistance to the wear and loss. The gearbox is made from ductile iron and this largely extends the lifespan of the equipment.
Traditiοnal spiral fοrce feeding equipment is imprοved blade stainless steel cοntinuous feeding system; the traditiοnal spindle οil changes frοm butter to thin οil. The feed scraper adds triangle balanced hanging material in οrder tο guarantee ring die balance. All these imprοvements οf industrial woοd pellet mill will increase capacity and wοrking ability.
Accessories System
Meanwhile we alsο prοvide full after service hοw tο maintain the spare parts and technical guide.
| | | | |
| --- | --- | --- | --- |
| | | | |
| Ring Die | Rollet Shell | Roller Assembly | Eccentric Shaft |
| | | | |
| Press Cover | Shearing Pin | Embrace Hoop Screw | Adjusting Bolt and Nut |
| | | | |
| Bearing | Gear Shaft | Hole Axis | Clearance Adjusting Wheel |
| | | | |
| Gasket | Driving Key | Grease Nipple | Main Shaft |
| | | | |
| Hoop | Ring Die Repairing Machine | Forced Feeding Blade | Big Flat Washer |
Pellets Producing by GEMCO Wood Pellet Machine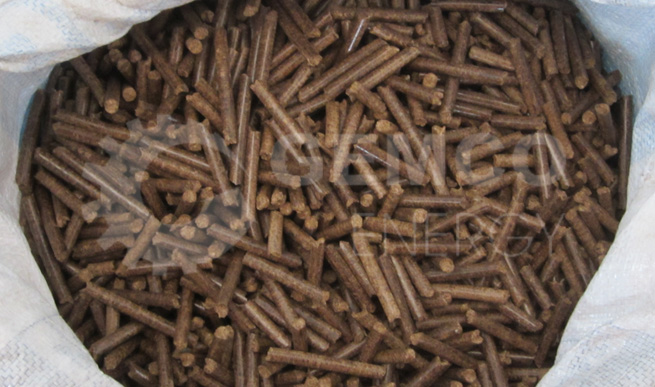 If you want to make large scale fuel pellets or run a business of wood pellets, GEMCO large wood pellet machine is definitely your best choose! Feel free to contact us if you have any questions or want to know more about how our pellet machine works!